Kickstart



Joined: 26 Apr 2008
Posts: 59

Posted: Sat May 23, 2020 5:26 pm

Post subject: Ns125f

---

Hiya

I have been busy and distracted the last few years, but with the lock down I decided to sort a few things.

So dug out there ns125f I was given years ago. I had the frame powder coated then ran out of spoons. Dug it out, and it was powder coated in 2007 .

Set to on it and now rebuilt. Few minor things wrong.

Oil pump leaked. Not 100% sure where from, but swapped for a spare now.

Brake caliper a bit of a pig to strip and rebuild. Choke cable was needed but the one I bought turned out to have an incorrect fitting where it goes into the lh switchgear. I landed up making a new cable instead.

I forgot to rivet the frame plate back on. Now canít get at the place to do this .

The wheels need powder coating, and the bike needs a respray which will have to wait. But hopefully soon it will be on the road.

All the best

Katy
Top-shaggy
Show Star !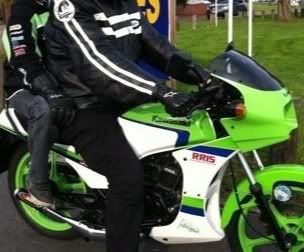 Joined: 05 Mar 2011
Posts: 1738
Location: Derbyshire
Posted: Sun May 24, 2020 10:44 am

Post subject:

---

Great to hear your back on the NF. Your inspiring me to pick up the bikes again.
Like you, I've been distracted for ages. They will get done, I just take years interspersed by a mad few months. Im like a sine wave with longer dips.
_________________
We are where we are...